Pocono Business Referral Exchange
Creating business opportunities by introducing fellow members to clients, customers, family and friends who can use their products and services.
Best Auto Service & Tire Center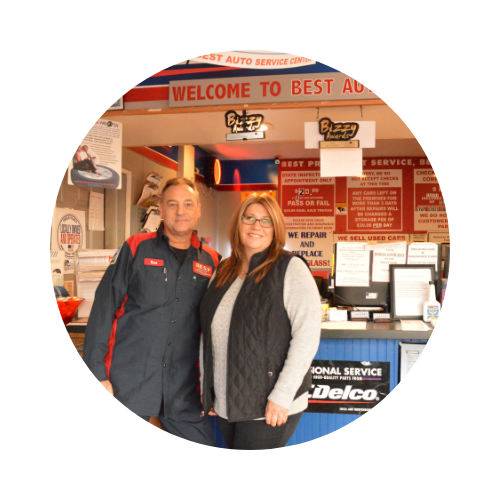 Business Category: Automotive Repair, Service & Maintenance, Used Cars
Contact Information
Primary Contact Person:
Tom or Lisa
Preferred Phone Number:
(570) 688-2378
Fax Number:
(570) 688-2907
Email:
Email Best Auto Service & Tire Center
Website:
Visit Website
2945 PA-611, Tannersville, PA 18372, United States
Connect with Best Auto Service & Tire Center
Tom worked for General Motors Cadillac division for 18 years. He attained Master Technician status with Cadillac and also held an A.S.E. Master Technician status as well.
In 1997 he went to work for SUBARU. He attained the rank of Senior Master Technician for Subaru while still keeping his A.S.E. Master Technician status.
In 2007 he decided to open his own business. Lisa and Tom opened BEST AUTO in the fall 2007.
With determination, faith, honesty, and integrity we managed to make it through the recession. Early on we decided to join the Chamber of Commerce, which till this day has helped our business grow. We also became a BBB accredited business We decided to get involved with AAA and became a certified repair shop. We also took on ACDelco and became an ACDelco Preferred Service Center. Knowing that ACDelco has superior parts and they have the best training for us and our employees we new it would be a perfect fit. Later became a My Tire Shop Certified Shop. Together with all of these businesses and organizations we paired up with we new we would have great results. Our business continues to grow every year due to our excellent customers!
Products & Services
We are a full service auto repair shop. We service all makes & models. We will fist diagnose your vehicle and determine the cause of the problem, then we will show you the parts that need replaced as well as provide you with a FREE Estimate before performing any work. We service all makes and models of cars and trucks with our A.S.E. Certified technicians. Subaru's are our specialty. We are your BEST alternative to dealer service.
We can install Alcohol Detection Systems (ADS) in any car or truck. We follow all Federal and State Guidelines and comply with all requirements set by law. Alcohol Detection Systems (ADS) can be installed in less than a day.
Our Alcohol Detection System (ADS), The Determinator®, is a state-of-the-art ignition interlock device, an automotive safety device. The system analyzes blood alcohol content and determines if a driver is within a legal limit to get behind the wheel. In order to start a vehicle with an installed ADS, a breath sample must be given. If a certain level of alcohol is read, the vehicle will not start. The setting can be adjusted as necessary from a zero to a required level.